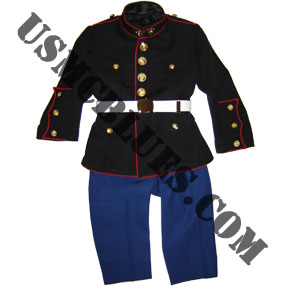 Children's Dress Blues blouses are tailored from adult dress blues blouses in to smaller sizes. Because each one is individually made, there are variations in sizes, and some flaws from the retailoring. Each set is slightly different, so please see the sizing chart at the bottom of this page to select the correct one.
Some items may have been previously rented/worn. All rented items are dry cleaned prior to being made available again.
Each set includes a blouse (with buttons and collar EGAs), trousers, and a white outer belt. (Trouser belt not included.) The collars fasten with velcro.
If you need additional information on any specific item, including pictures, close ups, etc., please let us know in advance of placing an order.
We are limited to sizes on hand. If you need trousers from a different available size, please let us know and we'll subsitute them.
BX1664
Children's Dress Blues. Closeout item. Not returnable. All sales are final.

Sample Shown
Information on how to measure can be found here.
Size 1

Blouse
Trousers
Size
C
L
S
N
W
I
O
1-A
21
15
15
12
18
7
12
1-B
20
16
15
13
21
9
14

Size 2

Blouse
Trousers
Size
C
L
S
N
W
I
O
2-A
20
16
17
14
21
9
15
2-F
21
16
17
12
21
11
17
2-G
21
16
18
12
21
12
18
2-H
21
16
19
13
21
12
18.5
2-J
22
17
19
14
22
11.5
19.5

Size 4

Blouse
Trousers
Size
C
L
S
N
W
I
O
4-B
24
19
19
12.5
24
15
22
4-C
24
19.5
20
14
24
15
23
4-D
24
19
21
14
24
15
23
4-E
24
19
21
14.5
22
15
22

Size 6

Blouse
Trousers
Size
C
L
S
N
W
I
O
6-A
24
21
22
14
25
16
25
6-C
24
21
23
14
26
17
26
6-E
24
21
22
14
25
18
26
6-F
26
22
23
14
26
18
26

Size 8

Blouse
Trousers
Size
C
L
S
N
W
I
O
8-A
26
22
23
14
26
18
28
8-B
28
22
25.5
14
28
18
28